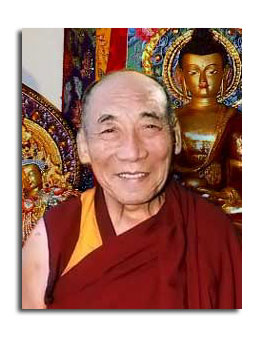 Venerable Geshe Tsultim Gyeltsen
Founder and Spritual Director of Thubten Dhargye Ling

"Dear Friends,
We have very sad news. Our great and dear teacher Ven. Geshe Gyeltsen passed from our world today, Friday February 13th at around 12:20 p.m. Ven. Geshela died peacefully, surrounded by monks from Gaden Shartse Monastery and family members.

All prayers and necessary rituals were performed by the monks. His Holiness the Dalai Lama and other lamas called and spoke to Ven. Geshela earlier this week.

Please pray for Geshela's swift return to continue his teachings for the benefit of all sentient beings.
Students are encouraged to include the King of Prayers into their daily practice, wishing Geshela to return quickly to continue to teach us.
Thubten Dhargye Ling / Center for the Study of Buddhism and Tibetan Culture"
Learn more about Venerable Geshe Tsultim Gyeltsten.
Photo from UrbanDharma