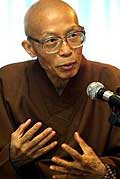 Tuesday, Feb. 3, Venerable Dharma Master Sheng Yen died of renal disease at National Taiwan University Hospital at the age of 80.

Read full article.

Photo from

The Buddhist Channel



According to

The Buddhist Channel

, he wrote this poem before he passed away:

無事忙中老,
空裡有哭笑,
本來沒有我,
生死皆可拋。
Busy with nothing, growing old.
Within emptiness, weeping, laughing.
Intrinsically, there is no "I."
Life and death, thus cast aside
.