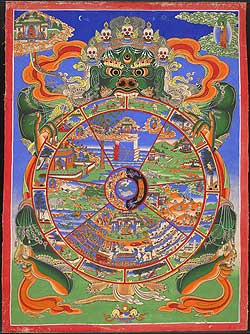 The six realms of Buddhism are rebirth as a deva, an asura, a human being, an animal, a hungry ghost, or a being in Naraka (hell). Can we make any metaphorical connections from these realms to our life here as a human?
O'Brien writes about how being reborn as an asura may very much be like being a corporate or political leader.
"I believe these days most of us (including, I understand, His Holiness the Dalai Lama) do not believe in the Six Realms as actual locations. Instead, they are more often understood as metaphors for our psychological projections. As such, it seems to me the Six Realms teachings shed light on our ongoing financial crisis."


Read full article.

Photo from
The Buddhist Channel.