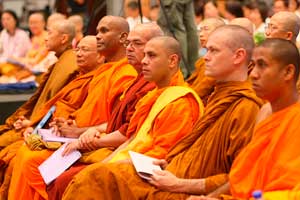 The Closer-to-Reality Conference 2008 was held at Thean Hou Temple from 12/27-12/29. Sasanarakkha Buddhist Sanctuary organized it to "connect real life experiences with Buddhist scriptural understanding". The conference was titled "Understanding Death and Beyond" and discussed issues such as...
When does death actually occur?
If I'm an organ donor, what will happen if I'm not really dead yet but my organs are being harvested?
Is there really an intermediate state between death in one existence and rebirth in another?
In a heart transplant, does the 'spirit' of the donor share the same body with the recipient who is experiencing a transfer of personality traits?
Read full article.
Photo from

The Buddhist Channel.